El electrodo Cochlear Nucleus® Slim Modiolar, es el electrodo perimodiolar más delgado1 y avanzado, diseñado para ofrecer una experiencia mejorada a los cirujanos y mejores resultados auditivos a los usuarios.
Con este electrodo los cirujanos tienen tres grandes ventajas para su uso:
1. COLOCACIÓN:
Colocación consistente y completa en la escala timpánica.
Los estudios han demostrado una correlación positiva entre la colocación de electrodos de implante coclear completamente en la escala timpánica, la proximidad modiolar y la mejora de los resultados auditivos.2
La delgadez del electrodo Slim Modiolar y su vaina suave y flexible permite a los cirujanos utilizar el método de inserción por ventana redonda que se ha demostrado que apoya la colocación correcta de la escala.3-6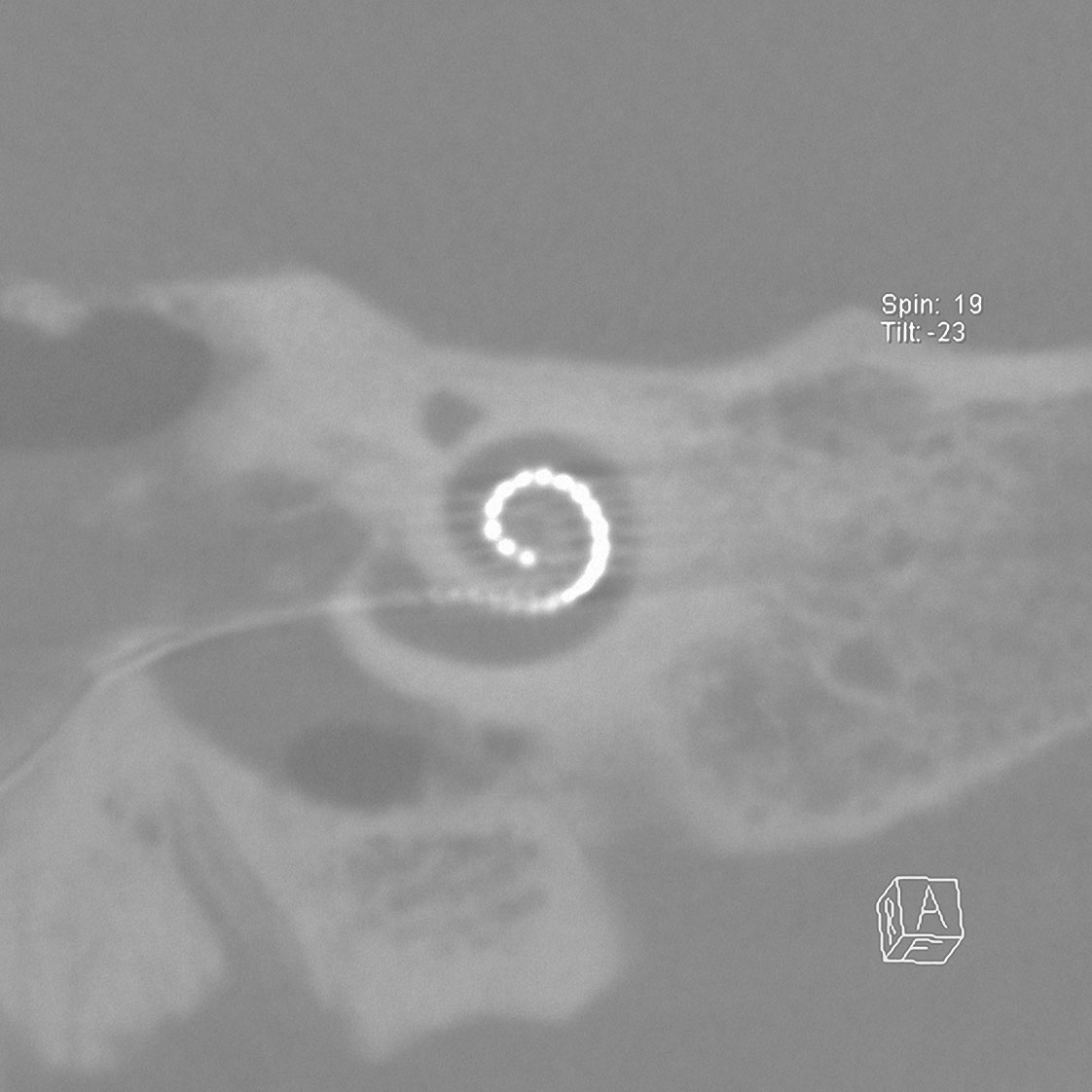 2. POSICIÓN:
Estimulación precisa y eficaz
Las matrices de electrodos perimodiolares están diseñadas para colocarse cerca del modiolo, el sitio objetivo para la estimulación eléctrica.2
Esto significa que el electrodo Slim Modiolar se encuentra más cerca del modiolo que un electrodo de pared lateral, lo que permite una estimulación más precisa y efectiva del nervio auditivo.7,16,21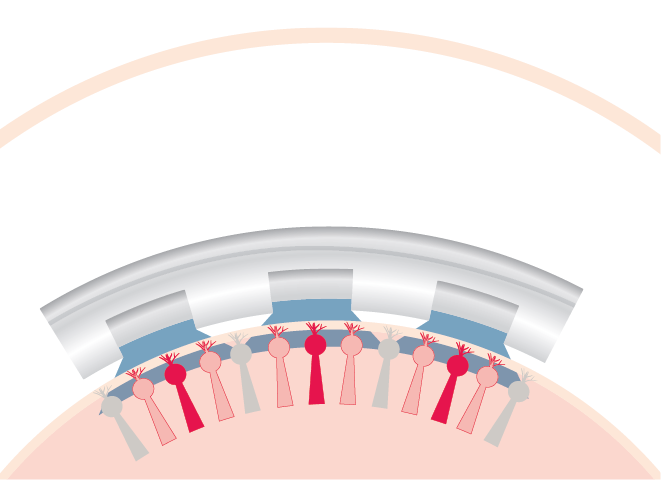 Electrodo de pared lateral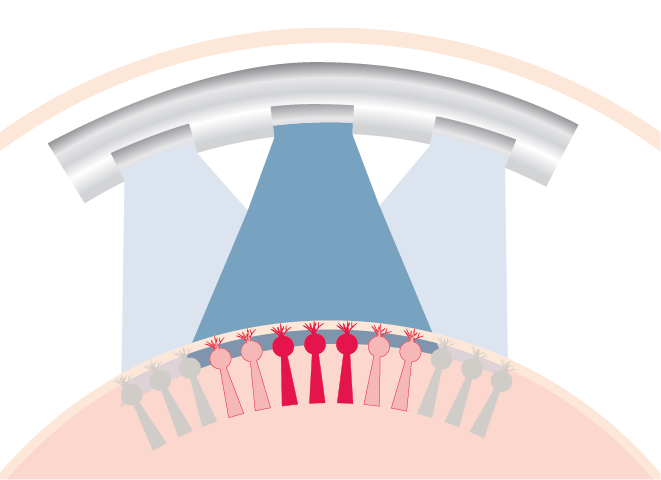 Los estudios han demostrado que la colocación de matrices de electrodos cocleares cerca del nervio auditivo proporciona: 
MAYOR

especificidad neuronal.

7-10
MEJOR

rendimiento auditivo.

2,15
REDUCIDOS

 niveles de estimulación eléctrica.

11,13

 
El electrodo Slim Modiolar está diseñado para conservar su forma curva para ofrecer un factor de envoltura alrededor del modiolo.
10,21
3. RENDIMIENTO:
Ofrecer resultados auditivos óptimos.
Según un estudio que compara el electrodo Slim Modiolar con el electrodo Slim Straight, los pacientes con matrices de electrodos perimodiolares demostraron:
Mejor reconocimiento de voz en silencio.

Menor y menos variable impedancia.

Mejor conservación de la audición.

21

 
En un estudio que comparó los resultados de CI532 y CI512 a los 12 meses después de la operación, el rendimiento del habla de 18 sujetos con implante coclear CI532 fue significativamente mejor, 80% vs 69%.¹⁶
Referencias:
Basado en la última generación de electrodos para implantes cocleares fabricados por Cochlear, Advanced Bionics, MED-EL y Oticon Medical disponibles a partir del 1 de julio de 2019.

Holden LK, Finley CC, Firszt JB, Holden TA, Brenner C, Potts LG, et al. Factors affecting open-set word recognition in adults with cochlear implants. Ear Hear 2013; 34: 342-60.

Coordes A, Ernst A, Brademann G, Todt I. Round window membrane insertion with perimodiolar cochlear implant electrodes. Otol Neurotol. 2013;34:1027e1032. 

Wanna, GB, Noble, JH, Carlson, ML, et al. (2014). Impact of electrode design and surgical approach on scalar location and cochlear implant outcomes. Laryngoscope, 124(Suppl 6), S1–S7.

Boyer E, Karkas A, Attye A, Lefournier V, Escude B, Schmerber S. Scalar localization by cone-beam computed tomography of cochlear implant carriers: a comparative study between straight and periomodiolar precurved electrode arrays.   Otol Neurotol. 2015;36:422e429.

Aschendorff A, Briggs R, Brademann G, Helbig S, Hornung J, Lenarz T, Marx M, Ramos A, Stover T, Escude B and James CJ. Clinical investigation of the Nucleus Slim Modiolar Electrode. Audiology & Neurotology 2017;22:169-179

Hughes ML, Abbas PJ. Electrophysiologic channel interaction, electrode pitch ranking, and behavioral threshold in straight versus perimodiolar cochlear implant electrode arrays. J Acoust Soc Am 2006; 119: 1538-47.

Xi X, Ji F, Han D, Hong M, Chen A. Electrode interaction in cochlear implant recipients: comparison of straight and contour electrode arrays. ORL J Otorhinolaryngol Relat Spec 2009; 71: 228-37.

Basta D, Todt I, Ernst A. Audiological outcome of the pull-back technique in cochlear implantees. Laryngoscope 2010; 120: 1391-6.

Ramos de Miguel A, Argudo AA, Borkoski Barreiro SA, Falcon Gonzalez JC, Ramos Macias A. Imaging evaluation of electrode placement and effect on electrode discrimination on different cochlear implant electrode arrays. Eur Arch Otorhinolaryngol. 2018 Jun;275(6):1385-1394.

Saunders E, Cohen L, Aschendorff A, Shapiro W, Knight M, Stecker M, et al. Threshold, comfortable level and impedance changes as a function of electrode-modiolar distance. Ear Hear 2002; 23(1 Suppl): 28S-40S.

Tykocinski M, Saunders E, Cohen LT, Treaba C, Briggs RJ, Gibson P, Clark GM, Cowan RS. The contour electrode array: safety study and initial patient trials of a new perimodiolar design. Otol Neurotol 2001; 22: 33-41.

Parkinson AJ, Arcaroli J, Staller SJ, Arndt PL, Cosgriff A, Ebinger K. The nucleus 24 contour cochlear implant system: adult clinical trial results. Ear Hear 2002; 23(1 Suppl): 41S-8S.

Cuda D, Murri A. Cochlear implantation with the nucleus slim modiolar electrode (CI532): a preliminary experience. Eur Arch Otorhinolaryngol. 2017;274:4141–8

Dowell, R. Evidence about the effectiveness of cochlear implants for adults. Evidence based practice in audiology: evaluating interventions for children and adults with hearing impairment. Plural Publishing. 2012; 141-66.

Shaul C, Dragovic AS, Stringer AK, O'Leary SJ, Briggs RJ. Scalar localisation of peri-modiolar electrodes and speech perception outcomes. J Laryngol Otol. 2018;132:1000–6.

Hey, M, Hoppe, U, Stöver T, Baumann U, Mewes A, Liebscher T, Schüssler M, Aschendorrf A, Wesarg T, Büchner A, Neben N. Retrospective Hearing Performance Outcome in a Larger Cohort of CI532 Recipients; Poster presented at 10th International Symposium on Objectives Measures in Auditory Implants (OMAI), October 2018.

Ramos-Macías A, Borkoski-Barreiro SA, Falcón-González JC, Ramos-de Miguel A. Hearing Preservation with the Slim Modiolar Electrode Nucleus CI532 Cochlear Implant: A Preliminary Experience. Audiol Neurootol. 2017;22:317–25

Data on file – Clinical Investigation Report, 2017

De Seta D, Torres R, Russo FY, Ferrary E, Kazmitcheff G, Heymann D, et al. Damage to inner ear structure during cochlear implantation: Correlation between insertion force and radio-histological findings in temporal bone specimens. Hear Res 2017; 344: 90-7.

Holder JT, Yawn RJ, Nassiri AM, Dwyer RT, Rivas A, Labadie RF, et al. Matched cohort comparison indicates superiority of precurved electrode arrays. Vanderbilt University, Nashville, TN (USA) Otol Neurotol. Forthcoming 2019.

Información en archivo
Si desea conocer más información puede contactarnos al correo electrónico: ljaramillo@cochlear.com 
© Cochlear Limited 2022.
Si usted es un candidato o usuario, pida consejo a su profesional de la salud acerca de los tratamientos para la hipoacusia. Los resultados pueden variar, y el profesional de la salud le indicará qué factores pueden afectar a sus resultados. Lea siempre las instrucciones de uso. No todos los productos están disponibles en todos los países. Póngase en contacto con su representante local de Cochlear para obtener más información sobre el producto. Las opiniones aquí expresadas son individuales. Consulte a su profesional de la salud para determinar si es un candidato adecuado para la tecnología de Cochlear.
Cochlear, 科利耳, コクレア, 코클리어, Hear now. And always, Osia, SmartSound, el logotipo elíptico y las marcas que llevan un símbolo ® o ™ son marcas comerciales o marcas registradas de Cochlear Bone Anchored Solutions AB o Cochlear Limited (salvo cuando se indique lo contrario).
©Cochlear Limited 2022. Todos los derechos reservados. D ART ES-LA CLASA.